We offer taxi reservation Valencia to Alzira from the airport at the best price. Make your transfer to Alzira in the most comfortable way, with our experienced drivers and our vehicles in perfect condition.
TAXI PRICE VALENCIA TO ALZIRA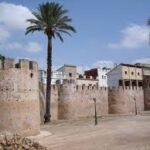 Bastante bien, son rápidos
The driver met me on time and got me to my destination. He was super nice and helped with my case too. Would recommend.
María José Pavía
12/05/2023
He contratado varías veces el servicio, no han fallado nunca, son puntuales y serviciales.
begoña navaridas velasco
11/05/2023
Hemos contratado este servicio de taxi desde el aeropuerto de Valencia a Peñiscola y el servicio muy recomendable El conductor majisimo , muy agradeble
Elena Loshakova
11/05/2023
Estoy muy satisfecho con el servicio de taxi! Conductores responsables y puntuales. Altamente recomendado!
Andrea María Almeida
22/04/2023
Les contacté y obtuve una respuesta muy rápida, en menos de 5 minutos ya tenia contratado un traslado de valencia a Alicante. De los mejores precios y perfecta puntualidad. Así, como un trayecto de 10. Gracias
Angelina LLACER MARTINEZ
21/04/2023
Pedí un traslado a Castellón desde el aeropuerto de Valencia. Perfecto, bueno casi: pusieron Ángela en el cartel en vez de Angelina
Rosa De Castro Gilmartin
21/04/2023
Puntual, rapido, agradable y más que correcto.
ADVANTAGES AND CONDITIONS
Book your transfer from Valencia to Alzira. Taxi service Valencia – Alzira
Taxi Valencia Transfer is a company specialized in taxi transfers in Valencia. With our service you can book a Valencia Alzira taxi and you will arrive at your destination at an unbeatable price.
The need to move from one city to another is now easier, a taxi will pick you up at the airport, the door of your home or hotel and will leave you at the door of your destination. With a private taxi Valencia Alzira you will enjoy door-to-door transportation. We are experts in long-distance travel and we also provide your child with a seat that complies with current safety regulations.
Our drivers are fully qualified and we adhere to the hygiene measures established against the coronavirus (COVID-19). It is about making your transfer without setbacks and with all the necessary measures.
"The most recommended and safe taxi transport service for passengers who wish to travel from Valencia".
We are the best option to book your taxi online. Book now your taxi from Valencia to Alzira at tzirahe best price.
How to book a taxi and how much does a taxi cost from Valencia to Alzira?
We offer you our online service to know the price of the taxi from Valencia to Alzira. The price is fixed and will not change without an additional stop or wait.
We have prices to the main destinations, if the price you want to know does not appear, you can fill out the price inquiry form and we will immediately send you an email with the price to your destination.
Other alternatives to find out how much a taxi or transfer will cost is to request a personalized quote by sending us an email to info@taxivalenciatransfer.com or whatsapp +34644694901. They will give you an answer in an instant. It's that simple to book a taxi online.
Taking a taxi from Valencia to Alzira has never been so easy with our long distance taxi service. Booking a taxi Valencia – Alzira is just a few clicks away.
OTHER DESTINATIONS OF INTEREST
Alzira (Valencian pronunciation: [alˈziɾa]; Spanish: Alcira [alˈθiɾa]) is a town and municipality of 45,000 inhabitants in Valencia, eastern Spain. It is the capital of the comarca of Ribera Alta in the province of Valencia.
The municipality of Alcira is located between 14 and 20 meters above sea level, between the meridians 0º18 ′ and 0º29 ′ of west longitude and the parallels 39º4 ′ and 39º11 ′. Its area is 111.46 square kilometers. The distance to the capital of the province is approximately 44 kilometers.
The municipal term is located for the most part on the right bank of the Júcar river and is divided into two sectors, one of 83.24 km² and the other of 28.22 km², called La Garrofera, which is separated by the municipal terms from Masalavés, Benimuslem, Alberique and Benimodo, forming an enclave.
Wikipedia